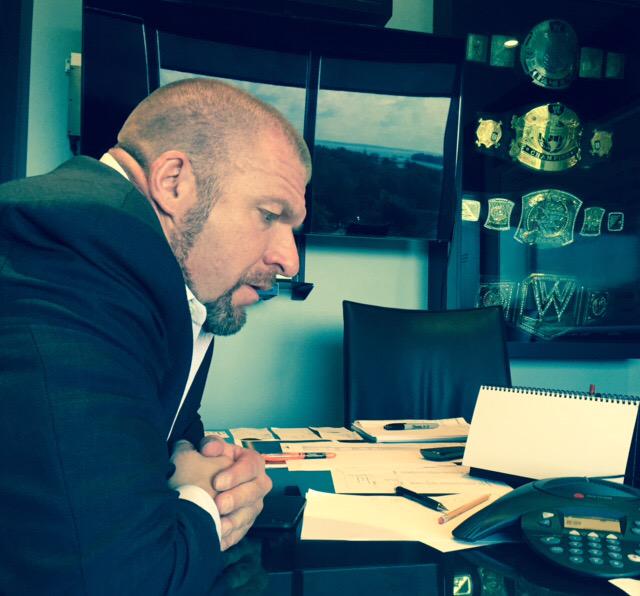 Photo Courtesy of twitter.com/tripleh
Earlier today Paul "Triple H" Levesque met with members of the media for an NXT Media Conference Call to preview WWE NXT Takeover: Brooklyn. This has been a tradition that Levesque has kept going prior to every NXT Takeover Special and, to his credit continues to do so to this day. The call, which lasted a little over 30 minutes, featured a very proud Levesque who was rightfully boasting over the recent success of NXT and WWE in general. Levesque said it best in this call when he proclaimed that he couldn't think of another entertainment entitity that could sell out the Barclays Center for three straight nights like WWE has this upcoming weekend. Let's get right into some of the highlights of the call.
Highlights-

The NXT Takeover Brooklyn Card- One of the main points that Triple H was quick to touch on prior to his conference call was some clairfication over how long the NXT Takeover Special was going to be and which matches were going to be on the show so here's what we know. On this Saturday's NXT Takeover Special, the event card will feature a double main event of WWE NXT champion Finn Balor vs. Kevin Owens: Ladder Match & WWE NXT Women's champion Sasha Banks vs. Bayley, as well as WWE NXT Tag Team champions Blake and Murphy vs. The Vaudevillians, Jushin Liger vs. Tyler Breeze, Samoa Joe vs. Baron Corbin and the debut of Apollo Crews vs. Tye Dillinger. The rest of the matches will be taped for next week's episode of NXT on the WWE Network in what will be a special 90 minute edition of NXT on the WWE Network. The matches taped that night for NXT are Becky Lynch vs. Charlotte vs. Dana Brooke vs. Emma, Bull Dempsey vs. Elias Sampson, Chad Gable & Jason Jordan & Dash Wilder & Scott Dawson vs. Enzo Amore & Colin Cassady & Zack Ryder & Mojo Rawley and Eva Marie vs. Carmella. Thus, if you're attending the NXT Takeover show live, you can expect 3 and a half hours of NXT action but only two hours, from 9-11PM will air live on the WWE Network.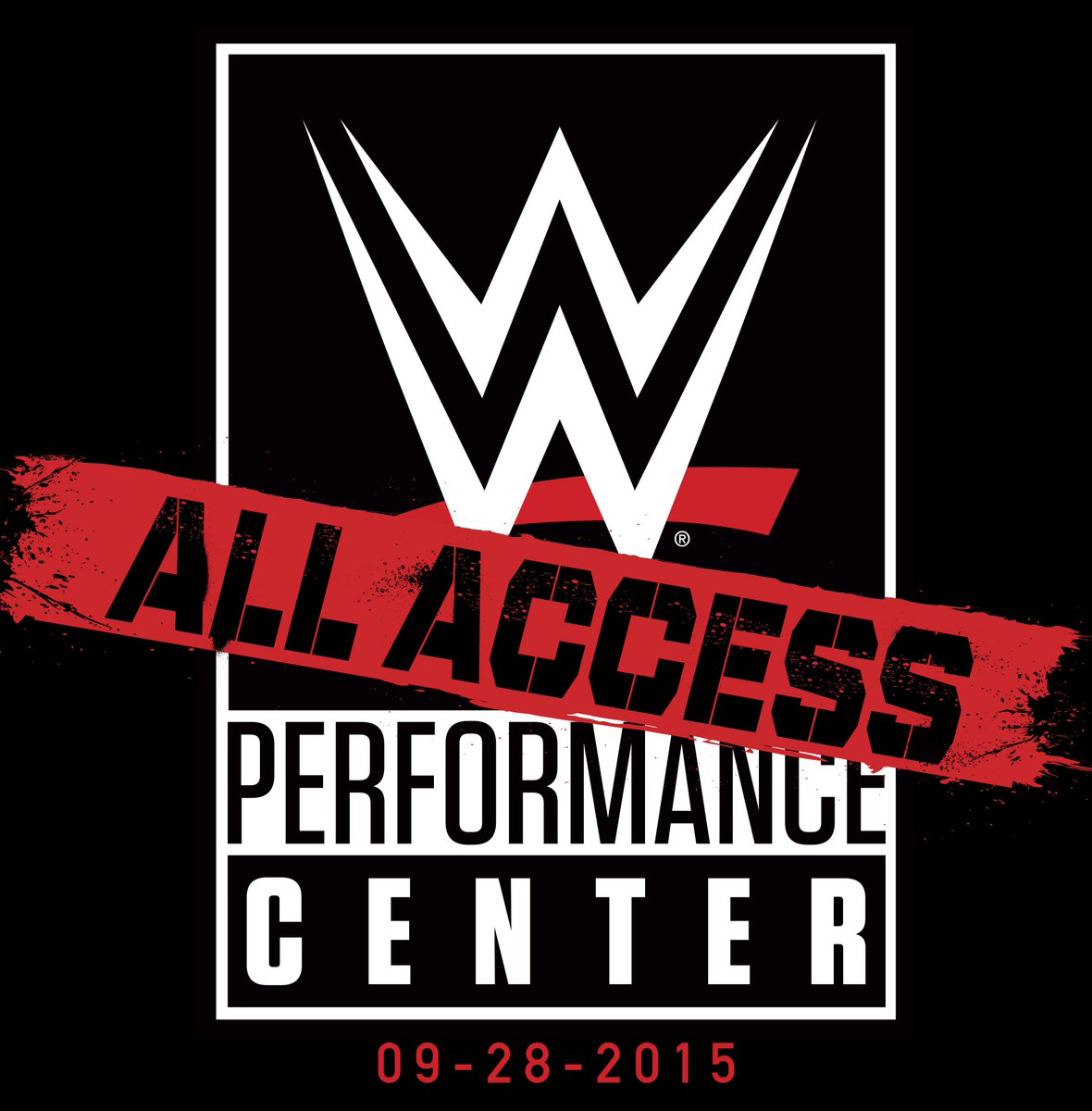 WWE Performance Center: All Access Pass- Triple H had been teasing this idea of an all access event to the WWE Performance Center for a few days now and went into a few more details as to what WWE is planning with this venture. For the first time ever the WWE Performance Center will open it's doors to the general public and allow fans unprecedented access to the performance center. For fans that sign up for the day- long event, that will take place on September 28th, 2015, it will include, according to a press release issued by WWE , "share breakfast and lunch with NXT Superstars and Divas (meals provided), participate in a Q&A and orientation session with NXT coaching staff, attend a Q&A and autograph session with NXT Superstars and Divas, sign a one-day WWE booking contract, granting admission to a private NXT Live Event at the WWE Performance Center that you will help produce, manage and watch alongside your favorite NXT Superstars & Divas, take an all-access Tour of the WWE Performance Center, which has never before been opened to the public, get an inside look at a private NXT training session, learn the ropes during a promo class and then create your very own unique promo video.Plus, you'll be able to take the experience home, with exclusive keepsakes like: a commemorative WWE Performance Center: All Access credential, photo opportunities to capture and share your once-in-a-lifetime experience with friends, WWE Performance Center gift bag, limited edition event chair personalized promo video; available post-experience, and downloadable highlight reel; available post-experience". The event will be open to the first 40 people on a first come first serve basis. While this is no doubt a dream experience for any WWE fan, it does cost $1500. Tickets go on sale monday August 24th on NXTTickets.com.
Future NXT Plans- While Levesque did not confirm anything specifically when it comes to the NXT brand, he did mention that their are plans for NXT to head to the UK. He also said that while he likes that NXT is able to piggy back onto some of the bigger WWE events like Wrestlemania and Summerslam, he'd like to stop there for right now. He said with Wrestlemania and Summerslam, NXT is able to take advantage of some of the international fans who were coming in for that mega event. Levesque also said that he likes that NXT continues to be an alternative brand. He said he does not want NXT to be like Raw or Smackdown and likes that the brand is consistently forced to reinvent itself when the NXT stars go up to the main WWE roster. Levesque ended by saying that he remains open to talent from all over the world, adding that it doesn't matter if the talent come from independents or from the NFL or wherever. He finished with a great line about how Kurt Angle never toiled around on the independents and he ended up doing alright.
Closing Thougts–
In the end, I always really enjoy these calls and this time was no different. I feel they make each one of the Takeover specials feel like a big deal. I continue to say it, and don't expect that it will happen, but I'd like for WWE to do these calls before their pay per views. I also liked how honest Paul Levesque came off during the interview tackling questions about the, rather silly in my opinion, claims that WWE is coming after Ring Of Honor. Levesque pointed out that for years other companies have been making money off Wrestlemania so it would behoove NXT to not do the same thing. As Levesque said, I really don't think that he's even all that aware of what Ring Of Honor is doing. I like Ring of Honor, been a fan of their product for years, but the fact is NXT can sell out 13,000+ seat venues and no matter what ROH does right now they aren't on that level. Perhaps it's because NXT has the WWE brand recognition behind if but whatever the situation, NXT right now is a success in and of itself and a lot of that is because of Paul Levesque's hard work.
That's going to do it for me right now but I just returned from a fun night at MCU Park, dedicated to Summerslam and will have the highlights from that event tomorrow afternoon. Until then be sure to subscribe below so that you can get all of the Summerslam week coverage right here on the site delivered right away to your email.